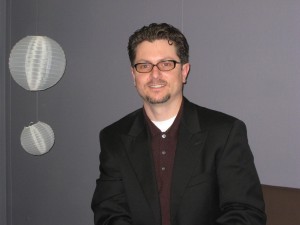 Malcolm Campbell, President – Malcolm began his tiling career in 1987, as a helper to a local commercial tiling firm. And for over a 25 year span, he has stuck with it, first as an independent doing high end residential work in the Ski towns of Telluride and Aspen Colorado, and later returning to Toledo as a key manager for that same firm where he first apprenticed.  During his time he has done work for the Big Three automotive and tier suppliers, the University of Michigan and the University of Toledo, and many churches synagoges, and museums as well as fast food restaurants and grocery/retail stores galore. He holds an MBA from Bowling Green State University and a Bachelors of Engineering from the University of Cincinnati.  He also holds several industry certifications.  Malcolm enjoys working with his hands and camping with his sons.
Lisa Linear, Exec Assistant – Ms. Linear is behind-the-scenes at Mosaic, assisting with the day-to-day operations. She keeps us lean organized and effective.  Lisa brings more than 20 years corporate experience. She earned her BS in Business Administration and has practiced in construction, automotive, banking, and management accounting. Strong in customer care enjoys teambuilding. In service with Mosaic since September, 2012.
Wes Mcumber, Installer/Manager – Wes's association with Campbell predates Mosaic. He has consistently demonstrated quality leadership with great results on projects like UM Computer Science, Plymouth Municipal Court, and Defiance College. Wes studied at Michigan State and received tile training under Union masters. In service with Mosaic since April 2007.
Fred Zeims, Designer/Installer – "Design Driven" that is Fred in two words. Formally trained at the Savannah College of Art and Design, Fred began his tiling career in the City's grand Victorian district. So he is a master of old homes and well prepared for the crazy things that always come up. Staying up to date with new stuff, Fred is well prepared to help with color selection, decor, and otherwise cool layout ideas. Available for residential only; Professional consultations upon request. In service with Mosaic since March, 2011.
Eduardo "Chicago Eddie" Martinez, Installer Operations – Based out of Aurora Illinois, Eddie is a second generation tile installer. He is responsible for all Mosaic Chicago Operations.  In service with Mosaic since February, 2014.
Adrian G., Project Engineer – Adrain is a graduate engineer. He is training under Campbell as an estimator. He provides estimating and project engineering support. In service with Mosaic since March, 2013.
@tilepup, Apprentice – Mosaic is a creative learning organization. Our people are our principle asset; hence, we continually train the next generation tile setter. While many train under us, @tilepup is reserved for the trainee who takes the learning experience further. What tile setters do is both physically and mentally demanding. Much of the work is graded "A" or "F"; water must flow to the drain. The pay is low. It is not for everyone. The lure is: Art-in-Craft, customer appreciation, and transformation of something ugly and unsanitary into something beautiful and safe. While learning, the apprentice changes in the same way; @tilepup shares that experience with you via social media. We feel this experience is valuable, because young people today face challenges unlike previous generations: It's harder than ever to get your big break. The new-normal economy is fraught with the pain of being overqualified / underemployed while being saddled with sizable student debt. Its a struggle not well represented in the media. @tilepup brings this experience to you. Hope you enjoy it. Feel free to interact with our @tilepup.