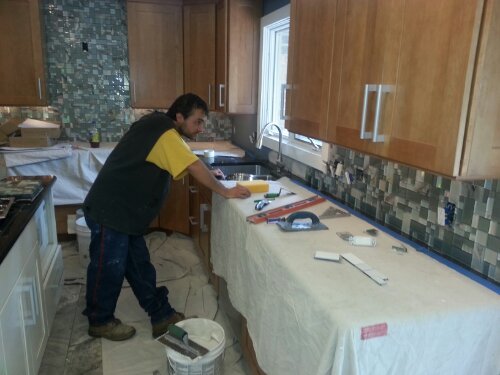 Here's Ben at work on a glass mosaic tile backsplash in Sylvania, OH. Exhibiting proper protection of customer counters and cabinets, he awaits cuts from his helper.
Customers can expect best property protection practices among other features when engaging us on backsplashes. These include:
1. All setting and grouting material.
2. Color matched caulk at key locations; between counter and splash and inside corners.
3. Re-install electrical devices along will new longer screws (to compensate for depth of the tile)
Customers also find our flat rate pricing easy to understand. We have one low price for backsplashes up to 20 lineal feat. Price is based on proper backing, simple umcomplicated install, and cement based grout.
Most installs take just one day.
We think its the right combination of price and service. Its a deal that looks great, is long lasting, and can happen in just one day.
Are you ready for a one dat transformation?
Call Now for more details.