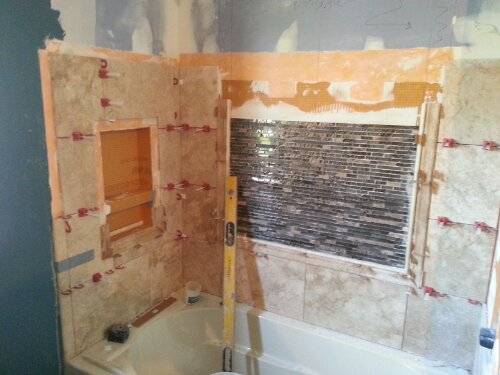 This is to introduce you to our latest residential commission; Cabin-in-the-Woods.
Cabin, or CI-TWo if you are in a hurry, features two bathrooms with tub surrounds. While the bathrooms feature the basic six foot by eight foot layout, there is nothing basic about the tile from The Tile Shop, designed by Ms. Tiffany Krueger.
The one above is clad in travertine with a mosaic picture framed with travertine moldings.
Below is tiled in a ceramic which looks like white marble. It will also get a mosaic band. And the back of the soap niche gets the mosaic too.
The orange stuff in the background, Almost too beautiful to cover, is Schluter Kerdi board. One of the newer tile backer boards available. Dustless cutting and no customary scarring of the client's walls and wood work like with cement board. It features waterproofing too, if you need it. I really like the stuff, especially the preformed soap dish. Its a snap to install, while making sure it lands in a critical location in the layout too (after considering Client preferrance of course.)
Cabin-in-the-Woods, we are really excited about it. And we know the homeowners are excited too. Hope you like it too.
Till next time. Happy Tiling!
P.S. If you need to come up with some classy tile designs, see Tiffany at the Tile Shop. She is as passionate about tile design as I am intense about the craft. Let her know I sent you 🙂