That's @tilepup, in the foreground. Real name Robert: He's our resident apprentice. As you can see he is quite proud his crew's work in the background. Together with Darrin and I we delivered the Patron's living room floor.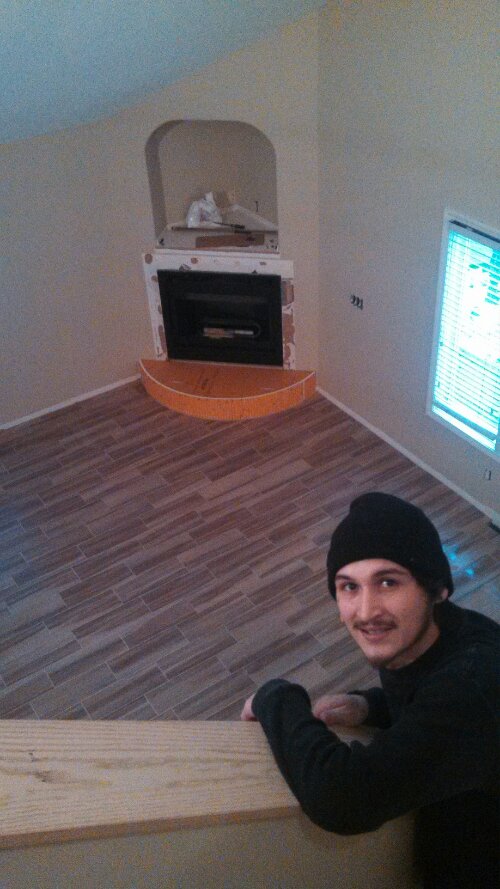 Here's an overhead shot from the loft balcony while Darrin finishes the grout and initial wash down. Its interesting to see the various stages of hazing which follows the initial wash. The objective here is to clean all the excess grout off the face and shape the grout joints. A second and sometimes a third wash is necessary to remove the haze. In this case a third was necessary because we added Grout Boost to the mix. Making it a little more challenging to wash.
Offering a 20-year stain proof guarantee, Grout Boost is a superior substitute for sealer. We recommend it on all our residential and high end commercial jobs.
To the upper left you can see the fireplace hearth coming together. Constructed from the familiar orance of Schluter Kerdi board, the hear went together in a snap while Darrin grouted. Pup played backup to both of us.
Here's a close up of the hearth. Big enough to sit on, or place a decorator arrangement.
Notice also how the Patrons choose to random stagger the joints. Typically every other joint will line up, like in brick work. But here we suggested it would be interesting to see how it would look randomized as in a typical wood floor. The only rule being the minimum overlap must exceed 2″. Refer to the two overhead pictures above (the one with @tilepup and the one with Darrin grouting below it) to get a sense of how well the effect works.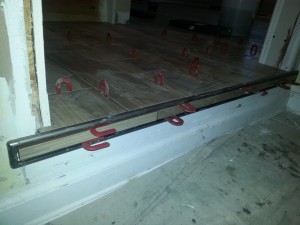 Here's an interesting stair tread detail. Constructed from one of the many special purpose metal trims available from Schluter, it includes an inset where we install a narrow tile rip to coordinate with the flor above. We left the trim long left to right in order to carry the wooden casing trim.
Here's another look at the floor before we grouted, and before we put in the hearth. Happy Tiling!