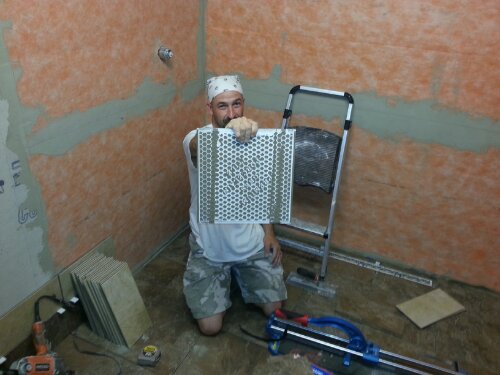 "Now how many times I gotta tell ya, This is the side that goes on the floor."
Lol. No seriously though, while most tiles appear to be square, and they are. Many sqaure tiles install easier and the work looks better if you respect the directional que printed on the bottom (often times an arrow imprinted on the bottom)
Why is this? Even though the tiles are square, they may posses a directional variation from the manufacture. Small though it may be, imperceptable on visual exam, shows up on the floor when using tight joints while not respecting the arrow. All those little variances can add up to an offset or a stairstep in the intersecting joints.
A pro can manage it, but the condition can absolutely frustrate the DIY'er or the jack-of-all-trades-master-of-none.
It so much easier to follow the arrow. And thats what we do at Mosaic, we inspect the tile prior to installation to see if it has a directional cue. Here John is showing me the cue, Made in America , below, and Old Glory above, in lieu of an arrow.
Atta Boy John.
Happy Tiling