By Malcolm "Mudduckk" Campbell
Here we have a Basket Weave pattern in a shower floor, somewhere in O.H. the pattern is done in a mesh mounted stone tile mosaic. Fabbed at the stone plant, the mesh mount makes installing so many small tiles more manageable than tedious. But it still takes a skilled artisan to blend the sheets of tiles together so you can't read one sheet of mosaics from another. Way to go for the skilled hands at MidwestMosaic. The floor is looking good.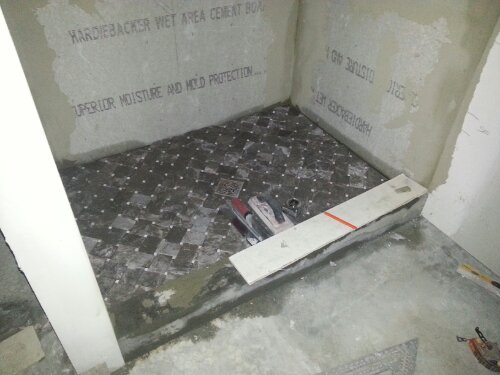 Malcolm "Mudduckk" Campbell is a tile installer in Toledo, Ohio. Tilers play in the mud! Toledo is home of the Mud Hens minor league baseball, sometimes call the Mud Ducks. So you know a tile setter from Toledo would have to go by the nickname "Mudduckk."  In fact, there could be many Mudduckks in Toledo, but only one of them is tops in Google Search. That one is Malcolm. Got Tile? Google: Mudduckk!