By Malcolm "Mudduckk" Campbell
After a week with the kids on vacation, we're back on the job – this time in St Clairsville. Here we see the new guy, Dewey backing me up on the deli wall at Kroger, Ohio Valley Mall.
He's a great addition, given we had to send John and Casey off to Chi town (Food 4 Less).
As I write this, Im having late nite lunch with D and the Project Super over at Denny's. I wonder if he knows, he's picking up the tab. JK.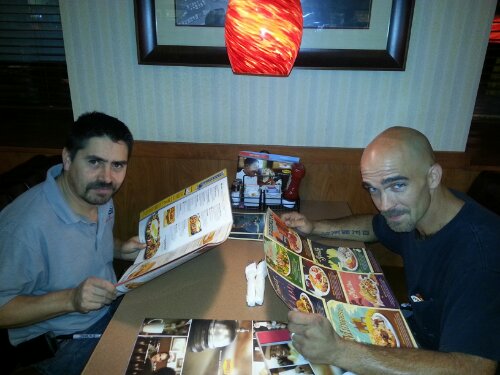 Malcolm "Mudduckk" Campbell is a tile installer in Toledo, Ohio. Tilers play in the mud! Toledo is home of the Mud Hens minor league baseball, sometimes call the Mud Ducks. So you know a tile setter from Toledo would have to go by the nickname "Mudduckk."  In fact, there could be many Mudduckks in Toledo, but only one of them is tops in Google Search. That one is Malcolm. Got Tile? Google: Mudduckk!